HI ALL
Another player signs as Whitehaven prepare for the 2017 season
Shane Pattinson signs
2 December 2016 11:51AM
Whitehaven have added another local player to their squad as they continue to prepare for the 2017 season.
Shane Pattinson has re-signed for the Recreation Ground side after impressing new coach Carl Forster in pre-season training.
A utility player, who left the club to return to the amateur ranks with Ellenborough, Pattinson is excited about the chance of re-activating his pro career.
"The buzz at the club at the moment is electric and I have never known anything quite as exciting," he said.
"I just can't wait to push my claims for a first-team place."
Forster said: "Shane's enthusiasm is similar to most of the players at the moment. They all just want the season to start as soon as possible.
"They are all proving to be a great bunch of lads and I am in the same boat with them as a player.
"We all want to get out on the pitch and give the fans our all."
Forster has admitted to being delighted at the fitness levels of the Whitehaven squad as they tackle the pre-season training.
"It's been hard but they are in good shape and are handling it very well," said the Whitehaven coach.
"I do think that we will have a very fit squad of players ready to tackle the League programme when we start in March.
"The fact that we have four friendlies as well in the build-up to the competitive season couldn't be better and they will give us an indication of where we are."
All friendlies against Keighley (January 15), Barrow (January 22), Newcastle Thunder (January 28) and Workington Town (February 5) are being played away from home.
Forster said: "The four games will give all the players opportunities for enough game time to see how they are going."
30th November 2016
Scott MacAvoy puts pen to paper with Whitehaven Director Gary Eilbeck in the newly re – furbished board room underneath The Ike Southward Trophy. Scott said "my recent operation seems to have been a total success and it has held up to all the rigourous pre season training. I am simply raring to go, we have a great new coach and a good solid squad with some new faces and old. It all makes for a great atmosphere at the moment." Eilbeck added "Scott is just so much part of this club, a senior professional and an inspiration to the younger players. Sitting under this famous trophy just makes us all want to start the season and of course retain the Ike Southward Trophy for the fans".
Amanda Hewer  G.M.
22nd November 2016
All of our Friendly fixtures for 2017 have now been confirmed;
We will be playing,
Keighley Cougars 15th January 2pm K.O
Barrow Raiders 22nd January 2pm KO
Newcastle Thunder 28th January 3pm KO
Workington Town 5th February 3pm KO
Alll games will be away!.
We look forward to seeing you all there!!
Amanda Hewer
General Manager
21st November 2016
Our new home shirt for 2017!!!
We hope you all like it as much as us.
Delivery is due the week of 14th December but please call down and place a pre-order whenever you like.
Amanda Hewer  GM
24th October 2016
Pictured here is Craig Calvert re signing for Whitehaven under the eye of Whitehaven director Gary Eilbeck. Gary said "Craig is one of the final pieces in the jig saw of our recruitment policy. Craig's qualities are known to all, his experience is immeasurable and that will only benefit some of the younger members of the squad. We hope that next year with this exciting squad Craig can significantly add to his club record tally of tries. Perhaps even break the club's record and claim the prize offered by Haven Horizon a few seasons ago."          Craig added "I have never wanted to play for anybody other than Whitehaven. I am personally proud of holding the club record of tries scored and I will do all I can next year to add to that number. I would consider it a double honour to break the club's record of tries scored in a season, when you are out on the wing most of your tries come from the hard work of your team mates and over the years I have some great ones tries and mates that is. I think next season we could well see some good rugby and hopefully plenty of tries for our great supporters. The  excitement in the squad is immense."
Amanda Hewer   G.M.
21st October 2016
Glen riley signs on the dotted line for Whitehaven in the presence of Director Gary Eilbeck. "To retain Glen's services for next year is an enormous coup for the club" said Eilbeck. He added "We all know about his size, strength and commitment. Our pack is going to be formidable next season, and I am urging fans to get down to the office and support the club financially. We need everyone to pull together to keep this talented side together". Glen said "I am really chuffed to be signing back on. Carl Forster is such an inspiring coach, if you could bottle his enthusiasm we would all be millionaires"  remarking with a large grin. "I am just like all the others we want to start tomorrow, I never know such a buzz amongst the lads, and it's great to be part of that". Gary Eilbeck also said that "the club would announcing new financial initiatives in the coming weeks and I hope that the range of things we offer will appeal to a wide section of the fans. It's all about bringing more money into the club in order to get back into Championship and spreading that financial burde more widely".
Amanda Hewer G.M.
21st October 2016
 On behalf of the board of directors both past and present of Whitehaven Rugby League Club, on behalf of the fans and on behalf of the whole Borough, can we wish Mr.Bill McAlone a very happy 90th Birthday.         Bill's exploits over his years at Whitehaven are the stuff of legend. It would take a much more well versed person than I to even begin to try and put into words what Bill means to the very term "Rugby League In West Cumberland". He is up there with the giants of our local game, names such as: Risman, Mckeowan, Huddart, Edgar, Roper, Archer, Holliday, Kitchin, MacFalrlane and others. His name is synonymous with toughness at a time when the game was full of very tough men. The mighty Alan Prescott said " "…I feel that I most certainly qualify to judge the strength and quality of this great player…and I admire for all the games I have played against him for his cleanliness…" who could give a more fitting tribute? Well maybe Willie Horne, when asked why Whitehaven consistently beat what was a great Barrow side, various people opined but Willie said "but they have Bill McAlone".          I was never fortunate to witness Bill playing, but one of my most precious pieces of Rugby Memorabilia is one of his "Official benefit Brochure's" numbered 1,787 priced 1/- [that's 5p to modern readers] from 1960. I would like to quote directly from it.          " I have never regretted for one moment my decision to join the Whitehaven club, and the past ten years have been happy ones. Thanks to my team mates for they are a grand lot of fellows and I feel proud to be associated with them.          May I also express my gratitude to those who throughout my career have given me good advice, helpful criticism or encouragement. So may I take this opportunity of saying to everyone: Thank You"         Many sporting stars are praised by the press but how many people from any sport can claim to be simply "A living legend" very few, but Bill in this town you are. Whenever people gather and speak about past great players your name will never be forgotten. I doubt we will EVER see the likes of you again.          Tom Todd Chairman. Whitehaven will awarding a club scroll of honour in an event to be finalised as yet, only the second ever awarded in the club's history.
Amanda Hewer G.M.
20th October 2016
The club wishes to announce the signing of former Wigan star Jake Moore. This brings our total squad to 24 [one player not yet announced] so we are nearly done  – but perhaps not quite finished. The squad is taking shape very nicely and clearly Jake will even more dimension to it.
Jake Moore 20,  joined Wigan in 2013 after two years in their scholarship program. at the time of signing Jake was described as ' A future star with real talent' Jake is a strong running froward whom with his athleticism can also play in the backs!
Jake started out his playing career at Wath Brow Hornets where he played from a young age. All at 'The Brow' knew Jake had the quality and attitude to make it in rugby league. Jakes commitment and attitude where often commented on from training to Game day he always give 100%.
Jake was rewarded for all his commitment with a call up To the England Academy in 2015!!
Carl Forster said ' After watching Jake in his u19 Grand final v St Helens I knew he would be a fantastic addition to our squad. He is a tough runner with great skill! I am glad we have managed to get pen to paper for him to join us for 2017!
Amanda Hewer  G.M.
The club is pleased to announce the signing of two more 'local lads' in Tyrone Dalton and Jonny Scott. This brings our number of signed players to a healthy 23 players signed on. Tyrone has recently been playing excellent rugby at Kells. He was the play-making captain of our 2010 reserve – grade final winning team. Tyrone subsequently made first team appearances before returning to play for Kells. He has matured along the way and is a fast, strong and intelligent player who will fit into Carl's plans seamlessly.
Jonny is another product of the 'Kells set up' in his earlier days he played prop, centre, loose forward before signing for Salford and returning to his established role at prop forward. In his amateur days he was often a prolific try scorer particularly when he had reverted to the centre position where he had the space to display his many talents. He was very frequently picked as man of the match. Jonny's experience at S.L. club Salford will no doubt prove invaluable in the Whitehaven Squad.
Team coach Carl Forster said "with two more local lads signing we are moving steadily towards a more or less full squad. They are both imbued with a sense of wanting to win and that's a great attribute for any player, good for himself the club and his team mates. Everyone is saying that there is a bit of a buzz about the whole town and an air of good will towards the club, this is amazing, I have come to realise how special this club is in the community. We all want the season to start 'tomorrow', I have never known a bunch of lads so raring to go – even waiting to get stuck into the rigorous pre season I have in mind. They have this 'bring it on' attitude which is so refreshing."
Again I would like to pay tribute to all the lads that have signed and the other members of the Football Committee who have put in an enormous effort in such a short period of time.
Amanda Hewer G.M.
18th October 2016
Whitehaven have announced the signing of Aiden Worthington from Distington and the re – signing of Kurtis Quinn.
Aiden made  history in Distington by becoming the first player to be called up to play for BARLA. Aiden has played for his local village team for ten year and has been a firm fans favourite every year. Alongside his team mates Distington have gone un beaten in 2016.
Aiden said on Joining Haven 'this is a huge opportunity for me and I will do all I can to impress. Without the help of my amateur coaches Gary and Carl Hewer this wouldn't be possible so I would like to take the time to thank them for everything I have done and all the support they have given,
Carl Forster said on the signing ' Its great to have another local on board after doing so well in the amateur game this is a natural progression for him.
Kurtis has rejoined Haven after having a year out last year after recovering from a serious shoulder injury. Kurtis is an athletic player that we are looking forward to having back in the squad.
Kurtis said in his resigning 'Thank you to Haven for allowing me last year to recover and I am looking forward to pulling on the chocolate blue and gold shirt again'
Carl said 'Kurtis has worked really hard since we spoke about his resigning and has got himself back in to shape for pre-season'
We are pleased to announce these two new signings which again is continually strengthening our squad. We will soon be near to where we want to be with the squad with a few more signings to be announced in the following few days. It will be great to have a good squad ready all together for the start of training, which will begin early in November.
Amanda Hewer G.M
. P.S. to all fans we are eagerly awaiting the draft fixtures which are due out soon and then the final draft fixtures which will be released next Monday the 23rd October.
The club is again delighted to get the services of Kells player Troy Armstrong. Troy is a quick lively player especially about the ruck and will add extra pace and dimension to our game. Coach Forster said "Troy is a live wire and his speed and quick thinking will certainly blend in with recent signings. He is also raring to go and he very sensibly sees signing for us as a natural progression in his career on leaving Kells. It's nice to see and hear that some young amateur players are willing to commit to the next level of Rugby. If only we had an intermediate level, I know this is something that in the medium term the BOD are wanting to bring in but of course it's an expensive step and needs a lot of consideration and funding. Signing players like Troy are the club's future and blending youth and experience with some of our Lancashire players will give the club a great platform to build on" whilst football committee director Mark Stamper added "I am so glad we have added another amateur to our set up, it goes without saying how grateful we are to clubs like Kells who dedicate so much work into young players in order to help them enhance their careers".
Troy said on joining Haven 'I'm Really looking forward to playing for my home town club and being given this massive opportunity, I loved every minute playing for Distington at open age and felt that playing for Kells where I started out at youth was a natural progression as I wanted to test my self in the NCL, this is another progression from that level and I'm looking forward to getting into training and being in a professional environment. I'd like to thank both Carl Hewer and Gary for there guidance at Distington and both Peter Smith and Mark Ryan at kells'.
Amanda Hewer G.M.
14th October 2016
Whitehaven R.L.F.C. would like to announce the signing of Karl Olstrum, who signed for the club this afternoon. This is another major coup for the club. Karl is only 25 and already has plenty of experience in both Championship and Championship 1. Karl is a robust player who does NOT take a backward step. He will add even more power and strength to an already formidable pack being gathered at the club by the football committee and coach Carl Foster. Forster said ' it's great to get Karl on board he has a great character and he'll be a fans favourite'
The club is delighted with our recruitment policy said Chairman Tommy Todd. Olstrum added "I am so looking forward to next season and teaming up again with Marc Shackley, I think the squad we are assembling is great and we will be going all out next year to do the club and the town proud"
Amanda Hewer G.M.
14th October 2016
All at Whitehaven RL are really pleased to announce the re-signing of centre Chris Taylor.
   This will be the third season Chris Taylor will be in Chocolate Blue and Gold after a brief spell at Halifax seen him return to the Recreation Ground.
   Chris is a firm fans favourite and all at the club are delighted he will be joining us for 2017. Chris is a tough and exciting centre he adds more quality to an already exciting squad.
 Car Forster said' I am really pleased Chris has decided to stay with us for 2017! the attacking type of rugby I want us to play will really suit Chris'
 Amanda Hewer   General Manager
13th October 2016
The club is again delighted to announce that Dave Allen has signed for Whitehaven for 2017. AS we all know Dave had a tremendous season last year especially in the super 8's where he and Carl Forster made a formidable duo in the middle of the park. His experience and forceful play will give our pack  great edge. Dave is currently in the Irish National side which in itself is a testament to how well he has been playing at Whitehaven. Welcome Back Dave from all at the club.
Amanda Hewer G.M.
12th October 2016
The Whitehaven club would like to announce the major signing of Marc Shackley. James Robinson [Director of football] is seen here as Marc puts pen to paper. Robinson said " Marc is a quality signing and everyone in Cumbria know his qualities his reputation as hard running clever forward goes before him, there is little I need to add" he went on to say "we had stiff competition from other clubs but we have pulled off an excellent signing, our squad is strengthening by the day. I would like to wish Marc a big welcome to the club". THEN
Marc Said "I am delighted to be joining the Whitehaven club and I am looking forward to a fresh challenge next season will bring, our squad is sounding strong and I feel we will give any team a good game next year, the spirit here at the moment is just fantastic. I am really looking forward to working with Carl and all the rest of the squad"
Amanda Hewer  GM
12th October 2016
    Whitehaven have continued with their recruitment drive for the 2017 season with the announcement ofanother major 'local' signing. Kurt Maudling has signed from St.Benedicts R.U.Club. Kurt is a big unit currently playing centre. He reads a game well and is an excellent kicker of the ball. . said "we are so happy to have signed Kurt and we are sure he will prove to be an asset to the club and the extra space afforded him in the League game will only be to his benefit and the club's" she added "It's always nice to sign a local lad who has been putting in some excellent performances of late and the mixture of locals and travelers is now coming together very nicely" Kurt put pen to paper before last night's board meeting and is already raring to go, he said "I wish the season was starting next week!"
Amanda says "he has bags of enthusiasm and is surely going to be a popular signing. Kurt played for both Hensingham and Egremont before signing for St. Benedicts.
Amand Hewer
GM
12th October 2016
Whitehaven have completed another strong signing with the capture of Tommy Holland. He is a tough forward and will give the pack an extra bit of size and strength and power. He signed for the club last night and that brings the total of four signings in two days.
Director Mark Stamper said "it's all happening quite quickly at the moment, the coach and the football committee and Director of Football James Robinson are putting in a lot of negotiating time and we can now begin to see rewards. We should have more signings to announce shortly just as soon as we can get all the fine detail done" – he added "some people think you can just sign a lad in a moment, but some signings take care and patience and there is often hours of groundwork to go through, I think the committee has done the club proud so far and I am so pleased to be a member of this standing committee".
Amanda Hewer
G.M.
11th October 2016
Whitehaven Rl are please too announce the signing of Paul Crook from Rochdale Hornets.
Crook made his Super League début for Widnes in 2005 against London Broncos after progressing through the academy ranks at St. Helens. He went on to make 14 appearances that season under the former New Zealand international coach Frank Endacott. Since leaving Widnes in 2007, Crook has had spells at Doncaster and Swinton before signing for Rochdale Hornets in 2010.
Carl Forster said' I am really pleased to get Paul on board he is another experienced half back to our team. He plays the exact type of rugby I am looking for'.
Amanda Hewer  GM
10th October 2016
The club is delighted to announce the signing of James Newton for the 2017 season. James was nearly ever present last season and was one of those players who gave it his all in the super eights. this brings our squad up to 13. Carl Forster is pleased James has committed to the next season and sees him as an integral part of the squads set up. Carl said 'Its good to have James on board he was a priority signing after being a key part of our 2016 squad. This signing shows our intent for 2017.
As always James bring a bit of flair to the attack and his experience will count for a great deal in Championship 1.
James Newton said on his re-signing' its great to be back on board at Whitehaven for 2017 , after a few weeks on negotiations with carl and the board i've decided to stay at the club , carl is a young and enthusiast lad and has big plans for getting this club back in the championship and hopefully I can help him and the rest of the squad do this , I hope all the fans and everyone involved at the club can back him and all the rest of the squad to have a massive 2017
Amanda Hewer G.M.
7th October 2016
The Club are over the moon to announce the re-signing of Jordan Burns. Jordan joined us for the 2014 season from the Warrington Academy after starting out his career at Kells. Jordan has appeared for the club 43 times over the last three years.
Jordan has scored some fantastic tries for Whitehaven in that time none better than most recently away at Swinton!! We had competition this year to keep Jordan at Whitehaven but we are really happy he has decided to stay.
Carl Forster said ' I am really happy to bring Jordan back he is a great young local and he is only going to get better the more game time he has. The type of rugby we will be playing this year will really suit Jordans Style of play.'
Amanda Hewer
General Manager
James Tilley left St Helens in 2015 after being at the club almost 10 years, starting his career with Saints at the age of just 11.
The versatile forward was named player of the year at under 16's, 18's and 19's but had to leave the club when he was told he wouldn't be given another contract.
in 2015 Tilley joined Rochdale where he has played in 22 games for the cub during 2016.
Carl Forster said ' I am happy to get James on board, hes got a good background being full time at saints so he knows the type of rugby I want to play. He will bring us energy in the middle of the field and being a forward that can play some good rugby he is exactly what I wanted.'
Amanda Hewer
G.M.
3rd October 2016
The club is delighted to announce that Anthony Stewart has agreed to join the club as Carl Forster's assistant.
Anthony began playing at Hindley Juniors before joining Saints. Having won the 1999 Championship, St Helens RLFC contested in the 2000 World Club Challenge against National Rugby League Premiers the Melbourne Storm, with Stewart playing from the interchange bench in the loss. As Super League V champions,St Helens RLFC played against 2000 NRL Premiers, the Brisbane Broncos in the 2001 World Club Challenge. Stewart played from the interchange bench in Saints' victory. Stewart played for St Helens RFC on the wing in their 2002 Super League Grand Final victory against the Bradford Bulls. Having won Super League VI, St Helens contested the 2003 World Club Challenge against 2002 NRL Premiership-winners, the Sydney Roosters. Stewart played at on the wing in Saints' 38-0 loss.
Anthony signed for Salford City Reds on loan from St Helens in 2004. He signed permanently in 2005. He was named in the Ireland training squad for the 2008 Rugby League World Cup.
Carl Forster said 'I'm made up to get Tony on board. I've worked with him before and I'm really impressed with his enthusiasm and knowledge. With me being on the pitch I need someone I can leave to deal with everything so I can concentrate on playing my game. With his experience I know he will teach our backs to play expansive and attacking style of rugby which I'm after.'
Amanda Hewer
GM
2
28th September 2016
The club would like to send out its best wishes to Dave Allen and Ugo Perez both of whom have been just called up to the Irish and French training squads respectively. We would like to wish them all the good luck for the full selection. We think this reflects on the sterling performances these two players have put in for Whitehaven all season and that it reflects well on Championship in general. Good luck to you both and best wishes from everybody connected with the Whitehaven club.
Amanda Hewer
G.M.
28th September 2016
The club is pleased to announce Carl Forster's first new signing at the club for the 2017 season and that signing is Steven Roper.
Roper, who played 84 times for Hornets in a spell between 2009 and 2014 is a vastly experienced half back who can play at 6, 7 or 9.
He left Hornets early in 2014 after playing a pivotal part in the clubs promotion season of 2013.
He cemented his place with Oldham and was again instrumental in the Roughyeds team that finally won promotion in 2015 following numerous falls at the final hurdle. He has played 49 games for Oldham, winning man of the match against Hornets in the Law Cup fixture as well as in the shock Challenge Cup victory away at Hull KR.
Roper then rejoined Rochdale during 2016 season.Roper is joining us on a one year contract.Carl Forster said ' I'm really pleased to get Ste, when I knew he was available I was keen to get the deal done straight away. He's the type of player we need, bringing direction and leadership on the field and his experience in this league will benefit us massively'
,Amanda Hewer
General Manager
23rd September 2016
The Whitehaven Club is delighted to announce hat Carl Forster will be the new Player Coach/ Head Coach for the 2017 season. Carl played a leading role in the super eights and whilst he played the club managed three out of five wins. He has showed extreme dedication to the club, signing before we were relegated Carl stated publicly that "..no matter what happens, I will still be at Whitehaven next year.." and that is the spirit we will need to carry the club forward in what will be another hard season. His performances on the field have been simply tremendous and he threw everything into the games – leading by example from the front. When you have forwards like Carl winning the battle in the middle of the field that's when you win games. Carl comes from a great rugby league background, starting out at Pilkington Recs then straight on to St Helens, with Loan spells at Whitehaven in between. Carl then headed to Salford before joining us again for the remainder of 2016! Now we have a coach in place we can start putting our squad together and planning for the coming season. Carl's spirit is really infectious and his enthusiasm is enormous, I think this appointment will lift everybody at the club and be a breath of fresh air.
Amanda Hewer
G.M.
Did you know that whenever you buy anything online – from your weekly shop to your annual holiday – you could be raising a free donation for Trust In Haven?
There are nearly 3,000 retailers on board ready to make a donation, including Amazon, John Lewis, Aviva, thetrainline and Sainsbury's – it doesn't cost you a penny extra!
It's really simple, all you have to do is:
Join.
Head to https://www.easyfundraising.org.uk/causes/trustinhaven/ and sign up for free.
Shop.
Every time you shop online, go to easyfundraising first, pick the retailer you want and start shopping.
Raise.
After you've checked out, that retailer will make a donation to your good cause for no extra cost whatsoever!
There are no catches or hidden charges and Trust In Haven will be really grateful for your donations.
Thank you
Trust in Haven
27th July 2016
Kingstone Press Championship Shield Super 8s – Round by Round
Round         Date                      Home                        Away                            KO Time(Local Time)
1               7 August 2016        Whitehaven                Bradford Bulls                     2.00pm
1               7 August 2016        Dewsbury Rams        Swinton Lions                     3.00pm
1               7 August 2016       Halifax                        Sheffield Eagles                  3.00pm
1               7 August 2016       Oldham                      Workington Town                 3.00pm
2             14 August 2016       Bradford Bulls              Halifax                                3.00pm
2             14 August 2016       Sheffield Eagles           Whitehaven                       3.00pm
2             14 August 2016       Swinton Lions               Oldham                              3.00pm
2             14 August 2016       Workington Town       Dewsbury Rams                  3.00pm
3             21 August 2016       Bradford Bulls              Oldham                             3.00pm
3             21 August 2016       Halifax                        Dewsbury Rams                 3.00pm
3             21 August 2016       Sheffield Eagles            Swinton Lions                  3.00pm
3             21 August 2016       Workington Town             Whitehaven                   3.00pm
4            29 August 2016       Whitehaven                  Halifax                                 2.00pm
4            29 August 2016       Dewsbury Rams          Bradford Bulls                     3.00pm
4            29 August 2016       Oldham                      Sheffield Eagles                   3.00pm
4            29 August 2016       Swinton Lions               Workington Town               3.00pm
5           4 September 2016     Bradford Bulls             Swinton Lions                     3.00pm
5           4 September 2016     Dewsbury Rams         Whitehaven                        3.00pm
5           4 September 2016     Halifax                        Oldham                               3.00pm
5           4 September 2016     Sheffield Eagles         Workington Town                3.00pm
6         11 September 2016     Oldham                      Whitehaven                         3.00pm
6         11 September 2016     Sheffield Eagles         Dewsbury Rams                 3.00pm
6         11 September 2016     Swinton Lions             Halifax                                3.00pm
6         11 September 2016     Workington Town       Bradford Bulls                     3.00pm
7        18 September 2016     Whitehaven                  Swinton Lions                      2.00pm
7        18 September 2016     Bradford Bulls              Sheffield Eagles                   3.00pm
7        18 September 2016     Dewsbury Rams           Oldham                                3.00pm
7        18 September 2016     Halifax                        Workington Town                   3.00pm
*Super League Super 8s Sky selection will be made following the results of the Ladbrokes Challenge Cup Semi Finals.
All fixtures are subject to change due to Sky Sports scheduling
26th July 2016
Our Super 8's fixtures are due out tomorrow!!!!
We will be reverting back to Sunday home games but will be 2pm K.O
We hope to see you all soon!
Amanda Hewer
GM
20th July 2016
We are very pleased to let you all know Ant Walker will be back in Chocolate Blue and Gold for the remainder of the 2016 season. Ant was outstanding for us in his last Loan spell and we are all over the moon to have him back here at haven.
Amanda Hewer  GM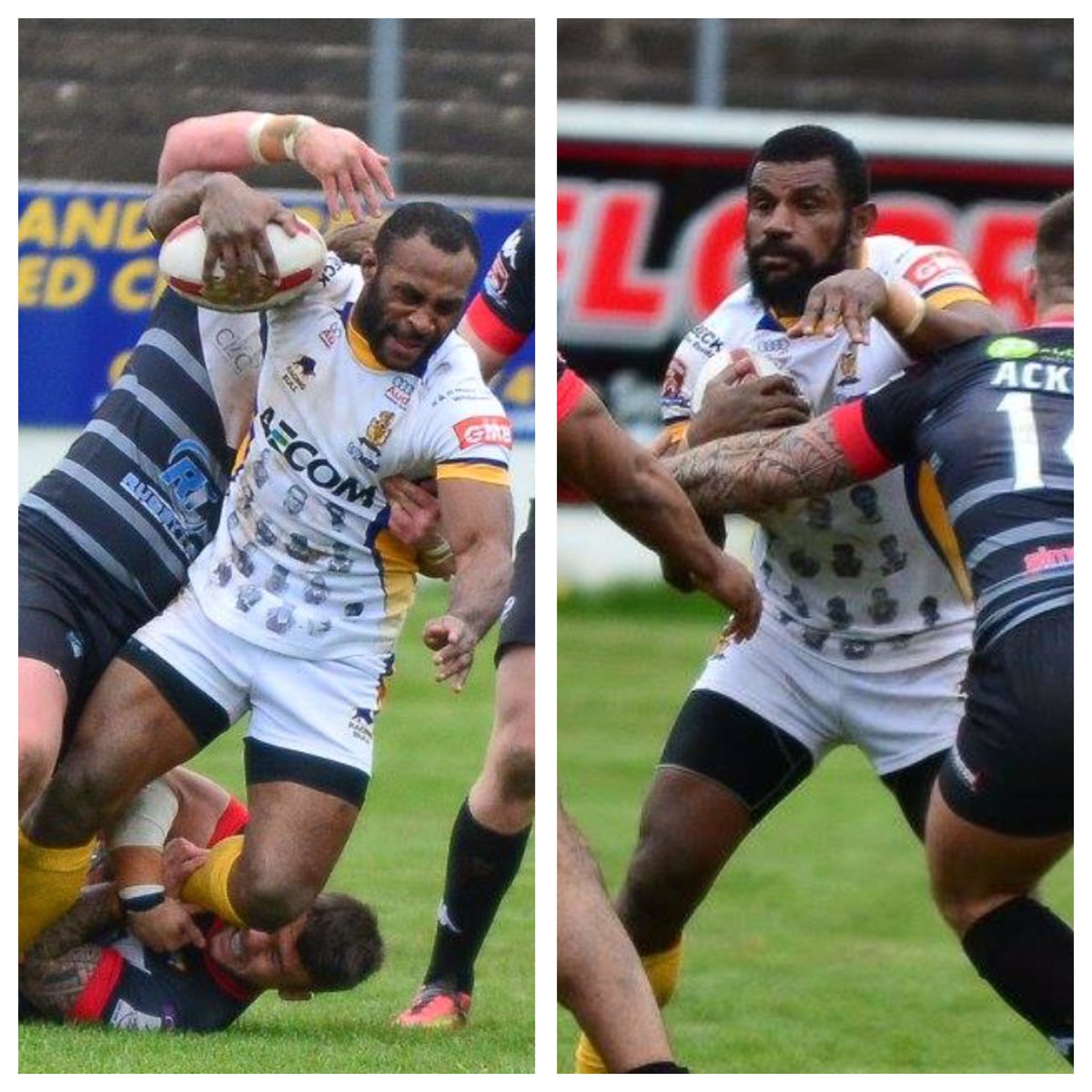 "The club is delighted to announce the signing of both Jessie Joe Parker and Dion Aiye. Jessie on a two year deal and Dion on a one year deal. The club football committee along with Gary Eilbeck and Mark Stamper have been working hard on these signings and these things take time and patience. It's a great boost for the club before going to Derwent Park on Sunday. It shows that these two players are committed not only to the club but to the town itself, they are immensely popular with the public. Lets hope the signings spur on the team for victory"
Kind Regards,
Amanda Hewer
General Manager
Whitehaven RL
6th July 2016
Whitehaven have boosted their squad ahead of the Super Eights by signing former Salford prop forward Carl Forster.
And the Recreation Ground club has also had a lift off the pitch with the recruitment of two new directors.
Peter Boyle, who works at Sellafield, and has proved an excellent organiser, putting on several fund-raising events for charity in the town, is new to the boardroom. Phil Barwise is returning for a second stint, although he has continued to help the club in various ways.
It's only a fortnight since the 24-year-old Forster was released from his contract by the Red Devils.
He had joined Salford in 2015 from St. Helens but has only played 15 times, three of them in the current Super League season.
At the time of his release he said: "It's hard to leave but I need to start enjoying my rugby again."
Forster is no stranger to Whitehaven fans having played 22 times for the club in 2013 and 2014 while on dual registration for Saints, scoring four tries for the Cumbrians.
In actual fact he has played more games of senior rugby for Whitehaven than any of the other pro clubs he has represented.
He turned professional with St. Helens in 2009 from the amateur club Pilkington Recs and was a member of the St. Helens Academy squad which won their age group Grand Final. But in four years with the Saints he only appeared five times for the first team.
He had a dozen games each for Swinton and Rochdale Hornets on dual registration in 2012/13 and played five times on loan with London Broncos in 2014.
In a tweet soon after his release by Salford, Forster said: "I would like to thank everyone at Salford for granting my early release, I would like to thank all the fans for the support in the last 18 months, you've been fantastic and I'll never forget that.
"Also would like to wish all the lads the best this season and beyond. They're a hard working bunch and deserve all the success they get and more. It's hard to leave but I need to start enjoying my rugby again. Thank you for everything."
Forster has recently undergone a clean-out operation on his shoulder and isn't ready to hit the ground running.
But Haven general manager Amanda Hewer said: "Carl is just itching to get started and play again so we will continue to monitor the situation, even if it's for part of the Super Eights."
Forster has signed an 18-month contract with the west Cumbrians who will be advertising for a new coach next week to replace James Coyle when he stands down at the end of the season.
In the picture, left to right, are director Mark Stamper, new signing Carl Forster and one of the two additions to the boardroom, Peter Boyle.
Story Courtesy of John Walsh
News And Star
Amanda Hewer GM
5th July 2016
Whitehaven coach James Coyle is to stand down at the end of the season – hopefully after helping to keep the Recreation Ground club in the Championship.
Extra work commitments with his expanding business have meant that Coyle has told the club that he does not wish to be considered for the coaching position next season.
Whitehaven chairman Tommy Todd said: "James informed us of his position and we will be advertising the post, possibly as early as next week in the trade papers.
"I think there would have been a case for keeping-on James next year, bringing some continuity to the club in the coaching position. There have been some very good performances this season and I think we would have been further up the table but for the injury situation which have obviously affected us."
Coyle is in his second season as Whitehaven coach but as well as his business involvements, he and his wife became parents for the third time earlier this year so family commitments are also involved in his decision.
"I think the travelling is starting to affect him as well, because he's got that on top of his work and his family. It's quite understandable.
"What he is determined to do is end his Whitehaven career on a high by keeping the club in the Championship," said Todd.
There are just three games left in the regulation season – two of them away, at Bradford and neighbours Workington Town – before finishing-off with a home game against fellow strugglers Sheffield.
That will then set-up seven more games in the Super Eights to complete the season when the key clashes will be the ones against Workington, Oldham, Sheffield, Dewsbury and Swinton.
An Irish international, capped three times, Coyle started his playing career at Wigan St. Patrick's before joining the Wigan Academy where he was their senior player of the year in 2003.
In that same year he captained the England Under-17's Academy team which beat the Australian Institute of Sport for the first time.
His full Wigan debut was in 2005 against Whitehaven when he was voted man of the match.
But what had looked a promising career never took off and he played only briefly at Widnes, Oldham, Barrow, Workington and Hunslet before taking a year out.
Wigan-born, and still only 30, Coyle was invited to Whitehaven by Steve Deakin whose Haven reign as coach lasted only a few weeks before he quit on the eve of last season. Coyle was then appointed by Haven and at 29 as one of the youngest head coaches in the pro game.
His father, Bernard Coyle and grandfather, Bernard Coyle senior, both played scrum-half for Wigan in the 1970's and 1940's, respectively.
Story Courtesy of John Walsh News and Star
Amanda Hewer GM
30th June 2016
We have had some last minute movement in our Loan signings this morning! Ant Walker has been recalled by Wakefield. All at the club would like to thank Ant for all his effort and commitment during his time here he has been outstanding for us and we wish him the best of luck.
Andy Yates will be joining us initially on a 28 day loan.
Andy Yates signed for the Wildcats on an 18-month contract from Leeds Rhinos which will keep him at Belle Vue until the end of 2016.
After starting his early career with home-town club St Helens, Yates dropped down to the Championship to play for Hunslet Hawks to gain some valuable experience. Andy played over 80 times for the Yorkshire club before earning a move to local giants Leeds Rhinos.
Yates played 11 times for the Rhinos in 2015 before joining the Wildcats.
Amanda Hewer – General Manager
15th June 2016
The club is very sad to hear today of the passing of Jackie Reid. It was only a little while ago Jackie attended the opening of the club's heritage exhibition in The Civic Hall and brought in some great memorabillia. Jackie played in the defeat of the Australian touring side down at the Recreation Ground in 1956, that was captained by the legendary Clive Churchill, sixty years ago [the club is bringing out a commemorative badge shortly]. Jackie  was also travelling substitute in the 1957 semi final team at Odsal. Jackie held an M.B.E. for his seervices to Rugby League. He was a quiet modest man and his services to Rugby league remain immense. We hope to be able to put a longer obituary in the next home programme. Our sincere condolences go out to his many friends and family.
Amanda Hewer G.M.
8th June 2016
Calling all fans, after the game against Halifax the club will be putting some free food on in the JJ bar, so we can all watch the England game and make a good night of it. All are welcome and there will be a happy hour at the bar. So come and support your local club and your national team at the same time and have a bite to eat and a cheap drink on the club.
Amanda Hewer G.M.
26th May 2016
The club is delighted to announce the signing of two new forwards. Ugo Perez from France, is 22 years old and has played two super league games for Catalans. He is also one of the key reserve grade players who trains with the Catalan Dragons. The second player is Anthony Walker from Wakefield. Anthony made his debut at Bradford for St.Helens in February 2013 and went on to be one of Nathan Brown's preferred bench forwards until an ankle injury curtailed his run. He then went out on dual registration and then was capped for Wales in the Rugby League World Cup to round off an excellent debut season. Last season brought eight appearances. He joined Wakefield in 2015. Both players have signed loan deals. There has been an extreme amount of paperwork and it has all been quite fraught especially tying up things with the French R.F.L. and to meet deadlines for the Summer Bash but we got there in the end. Once again a big thanks to our old friend Christophe Jouffret!! Both forwards will stiffen our pack at the weekend and help us over an injury crisis.
Amanda Hewer G.M.
25th May 2016
The club is working desperately hard to bring in players. At the moment we are trying to finalise deals with regard to three French players and a forward from a well known Yorkshire club. However due to injuries in other clubs there is scarcity of players in the game as a whole at the moment. We may even have news by the close of business today.
Amanda Hewer G.M.
17th May 2016
Whitehaven Rugby League are Holding a ladies Day on Saturday 11th June. Tickets are £40 each and include: Afternoon tea & Prosecco RaffleEntertainment.
contact sue on 07921918810 or
the club office on 01946 328088.
Please let us know by Saturday 4th June, so we can cater for you.
16th May 2016
Thanks to everyone for making this event an outstanding success.
1. Green 1961 Snecklifter – Two Nights in the Hotel on the Ground, Bloomfield Road and Math Ticket.
2. Blue 0182 Jim Snow – A Night for two Including dinner at The Tickled Trout Hotel Preston.
3. Pink 0569 Pelican Garage – Bottle of Rouyer Guillet & Co Fine Cognac
4. Pink 0705 Lakeland Scaffolding – Bottle of 1983 Armagnac Du Chateau De Lacaze
5. Green 1621 Janice Barnett – Case Of Bubbly
6. Yellow 0970 Wellington Bistro – Case Of Bubbly
7. Pink 0621 A + B Motors – Season Ticket 2017 SeasonModify message
21st April 2016
At the recent Kingstone Press championship and championship 1 meeting one or two things were discussed that may be of interest to you the fans we include them below.Town's Malcolm Allison has been appointed as the new Championship representative on the R.F.L.'s Laws committee. Clubs are encouraged to put forward items for discussion.Dual registration would differ this season in as much as if a player had played for say Whitehaven or Town at least 8 times then he would still be able to play for both the host and the parent club for the period of the super eights.The meeting was told that the 'Community Game' the N.C.L. had voted not to allow dual registration. The RFL were still working with the NCL to explore 'different options'. Tier 5 clubs were still considering a dual registration pilot in the 2016 season.Clubs were reminded that they were responsible for the behaviour of their players and officials whilst in France.Toronto. Mr. Wood reported that due diligence had been carried out on Toronto's application to join League 1 and the club was now likely to join the competition in 2017. This position would be confirmed in the coming weeks.Mr. Hampshire of Hunslet expressed disappointment that the league 1 teams could still not play everyone home and away.
A.Hewer G.M.
18th April 2016
Our Postponed game V Featherstone Rovers will now be played on Saturday 7th May 6.30pm K.O
Amanda Hewer
GM
15th April 2016
The Clubs directors attended an employment tribunal at the offices of Addleshow Goddard in Manchester on Monday gone to hear a case brought by The GMB on behalf of Ben Milburn arising from a contractual dispute. After deliberation the tribunal came to the unanimous conclusion that the Whitehaven Club had not infringed the contract and decided in the club's favour. Accordingly, Ben and the club have now come to an amicable settlement on the issue and thus the club have now released Ben from his contract and cancelled his registration with the RFL.
The club would like to wish Ben all the best in all he does in the future.
Amanda Hewer
GM
15th April 2016
 Bonjour Toulouse –
Trip to Newcastle 12.June.2016! Michael Rothery Whitehaven's travel coordinator is organising a day out in Newcastle to watch Newcastle play Toulouse where he and club directors will make direct contact with the French officials and club President Msr.Garcia. Hopefully they will discuss some preliminary arrangements for the club's proposed trip to France next year. Michael said "if we can get enough numbers we may be able to get reduced price tickets, we will also be booking a hotel for the evening in the city centre so we can have a social evening after the game". Anyone interested should ring Michael on 07849080514
A.Hewer G.M.
14th April 2016
The club would like to announce that as of 12.00 hours today Gary Broadbent has joined the club as assistant coach until the end of the season. It goes without saying that Gary's great experience in the game will prove invaluable going forward. "His contacts within the game and his respect within amateur circles will help us invaluably" said Whitehaven Chairman Tom Todd. Gary was ever popular when he was a player and many rated him as good a player as the great J.J.Mc. "We are delighted he is back at the club and we know he will once again be a fans favourite. The club would also like to put on record their appreciation to the Vice Presidents/ Haven Horizon group for their financial contribution in making this happen." Gary will attend his first official training session tomorrow evening. He will also be attending the "Evening with Eorl Crabtree" next Friday in the J.J. bar at the ground. This is another V.P./H.H. function and tickets are available at the club. It promises to be one of the best evenings for a long time but tickets are limited so please contact me in the office as soon as possible. We play London on Sunday and this is just the lift we need. We need two points to lift us of the bottom two places. Although we have two games in hand these games HAVE TO BE WON and this is one of them. We would also ask fans to come and support the club and help us get behind the lads for a victory.
A.Hewer G.M.
5th April 2016
Our game v London will be played on Sunday 17th April 3pm K.O
Amanda Hewer
GM
1st April 2016
Thomas Coyle has now been boked in for an operation on his knees this will be taking place on 6th April.
We all Wish Thomas a speedy recovery.
Amanda Hewer  GM
1st April 2016
Elliot Miller has today been booked in for his operation it will take place on 16th April.
We all wish Elliot a speedy recovery.
Amanda Hewer  GM
Bonjour Toulouse Whitehaven RLFC are making links with Championship 1 newcomers Toulouse. Should the French side gain promotion at the first attempt then the club will be running a trip for the Championship fixture next season (we will stay up!)If this does not happen for the league fixture then plans have been spoken offor a pre season friendly match – either way we intend to visit next season.I have already made contact with Cedric Garcia, the Toulouse CEO who has been very helpful in providing details of accommodation and facilities near the Toulouse Stadium. Cedric is very much looking forward to the planned trip and welcoming the Officials, players and fans of the club.Tom Todd and myself will be meeting Cedric when the French side come to Newcastle Thunder in June when plans for the trip will be discussed. Will keep you all informed how things are progressing.
Au revoir
Mike RotheryTravel Coordinator
WRLFC
Amanda Hewer   General Manager
30th March 2016
Come and join us in the JJ McKeown bar after our game V London Broncos 6.30pm KO.
We have entertainment from the fantastic Beth McGarry starting immediately after the game.
Amanda Hewer  GM
30th March 2016
During the whole of the 2016 season Copeland Community foundation have pledged to give out FREE childrens tickets to all local Primary and Secondary schools.
As the Schools are currently off for the Easter holidays the foundation Chairman John Cox has left a booklet of the tickts in the main club office.
Contact us now to book your FREE child place.
Amanda Hewer  GM
29th March 2016
As you will all be aware Elliot suffered a bad injury in Fridays game V Workington. Follwing this Elliot has now been booked in to see a consultant tomorrow to asses his injury further. We will keep you update as and when we recieve any further information.
Amanda Hewer   GM
14th March 2016
Prices for this Saturdays Ladbrokes Challenge Cup game at Batley Bulldogs will be;
Adults £15
Concessions £10
Children FREE
Amanda Hewer.
GM
14th March 2016
The club wishes to announce that assistant coach Peter Williams is to leave the club. Peter has given dedicated service since his arrival and has won the respect and admiration from all at Whitehaven. The fans especially have appreciated his efforts. "The Board will be sad to see him go" said Football Director James Robinson. Peter is self employed in the construction and of late has won several contracts. He has tried to see if he could do both jobs but feels he now can't commit the time he feels the job entails. "We all wish him well in the future."         The Board will meet soon with the head coach to discuss a replacement.
Amanda Hewer  G.M.
10th March 2016
Whitehaven are pleased to announce the signing of 22 year old Ryan Duffy from North Wales Crusaders. As a teenager at Warrington Duffy was permanent fixture in The Wolves under 20's before playing for a spell at Leigh and the being D.R. with our neighbours Barrow. Football director James Robinson said "we have to move quickly to secure Ryan's signature. He is a big unit and we hope he will give more forward power. I am looking forward to hopefully seeing him in his first run out on saturday."
Amanda Hewer G.M.
Hi I was wondering if you could assist me in sharing this information, insure all fans have a great day out as the march weather can be 4 seasons in 1 day as we have already seen.
Copy and paste on to websites, share on social media etc or another way you seam best.
2 Attachments
Preview attachment batley advert.jpg
batley advert.jpg
phez.jpg
20 KB
17th February 2016
RHYS Pugsley was one of Welsh sport's most promising stars when he tested positive for performance-enhancing drugs.At 18 years old, he was already an international rugby league player and on the cusp of making his Super League debut for Wigan Warriors.The powerful forward was highly regarded by all at the DW Stadium when he failed an out-of-competition test in April 2014.Traces of metabolites of methandienone were found in the teenager's system and UK Anti-Doping chiefs bannished him from the sport for two years – two days before he was due to make a first senior start against Leeds Rhinos.Pugsley branded his punishment
"the worst thing that has ever happened to me", but refuses to wollow in self pity."There hasn't been a day gone by when I haven't woken up and regretted doing what I did," he said."I want to right my wrongs and prove to people I am still worth believing in. I was young and I made a stupid mistake."I didn't plan to take drugs. It's not something I did. It was one occasion when I took a couple of tablets. I still don't know why I did it. "I didn't need to take drugs. I was delevoping fine and was due to make my Wigan debut against Leeds Rhinos."Two days before the match my results came back and they were positive. It was the worst thing to ever happen to me."I am relieved my ban is over. During the last two years, I have gone to university and I'm studying for a degree in human sciences, but rugby league has always been my passion.
"Now 21, Pugsley's ban ends in May, and Whitehaven have moved quickly to sign the player they see as Super League standard to a one-year contract.But Pugsley isn't looking that far into the future, and said:
"I cannot wait to get out on the pitch for Whitehaven. I know not everyone will support me, but I will be doing my best to prove myself.
"I am a big, physical lad, and I cannot thank Whitehaven enough for giving me a second chance. I am determined to pay them back."I'm not looking too far into the future, but playing in Super League and for Wales again is my dream."I am determined to thank my friends and family, who have been an incredible support during my darkest times, by being the best rugby league player I can be."Haven's top brass admitted they thought long and hard about the message his signature sends out, and said in a statement: "We understand signing Rhys will split opinion."Whitehaven RLFC in no way supports the use of drugs of any kind – performance-enhancing or recreational.
"The decision to sign Rhys was one we thought long and hard about. It was made with rugby in mind."Rhys has held his hands up and admitted what he did. He has shown remorse and has served his time."We have spoken at length with Rhys and now have the chance to help a young man get his career back on track.Pugsley is banned from all rugby league activity until March when he can start training with his new team-mates from the 15th.He will pen a one-year deal with Whitehaven, and could make his debut at London Broncos on May 22.
(Story by John Fuller Whitehaven News)
Amanda Hewer GM
Calling all fans, the recent success of the sale of our 2015 lapel badges (there are about ten left) we are inviting you all to submit an idea or a design for the 2016 badge. This can be of any design but we want to incorporate if possible a small image of the poppy within the design – as a homage to the armed forces during these centenary years of the First World War. A donation from the sale of the badges will go to the poppy appeal later in the year. Please forward your ideas as soon as possible as we need to get into production as soon as possible.
Amanda Hewer
General Manager
Whitehaven Rl 2010 Ltd
01946 328088
07935064993
Attachments area
Preview attachment Pin Badges.jpeg
3rd February 2016
Our 2016 away shirts are now available from the club office and will be available from Sport House and Sport Zone from Friday.
Amanda Hewer
GM
1st February 2016
Featuring Collections from, the RLF, Mike Stephenson, Bob Nicholson Senior, Sam Coulter and many local rarities,
this event will be held at The Civic Hall Whitehaven,
For more Information about this event Please contact the club office on 01946 328088
Marc Humphreys
2nd February 2016
The RFL have today announced that it will not be renewing Steve McNamara's contract as England Head Coach. McNamara has been the England Coach since 2010 and his most recent contract expired at the end of last year following the New Zealand Test Series.RFL Chief Executive Nigel Wood, said:
"The RFL has concluded that with the 2016 Four Nations and 2017 World Cup on the horizon, now is the time to make any change to the England set up."Steve McNamara has been the longest serving national coach in our history and it is undoubtedly the case that the national team and set up have moved on considerably under Steve's leadership.  We would like to place on record our thanks to Steve McNamara for his considerable efforts over the years to both the England senior team and the underlying programme. He leaves with our very best wishes and on a high, after a series win over New Zealand."
Amanda Hewer
GM
28th January 2016
Just a reminder to everyone about the Wembley trip this season which will take place in August.
Those who have already paid their deposit are booked into The President Hotel in Russell Square which is now full. Anyone elso who joins our party will be booked into the sister hotel, The International which is a three minute walk from The President.
A non-returnable deposit of £55 needs to be paid by 4th February to guarentee a place on the trip.if it helps anyone I am prepared to tale collection of money weekly or monthly towards the full cost of £340.
If anyone requires any further information please contact me on michaelrothery@live.comor call the club on 01946 328088.
Michael Rothery
Travel Co-Ordinator
WRLFC
28th January 2016
We will be holding our Launch night next Friday 5th February down at The Recreation Ground.
Come down and join us and meet our new 2016 squad.
Tickets will be £5 and include food.
Amanda Hewer
General Manager
Whitehaven RL
26th January 2016
We will now be playing Newcastle Thunder this Sunday 31st January 5.45pm this will follow on from Newcastle Falcons v Harlequins at 3pm K.O.
Amanda Hewer
GM
we have arranged a 2nd friendly for sunday v newcastle thunder we kick off at 5.45 so will be leaving at 1.30 usual pick up points bus size will depend on numbers let me know asap if you want to come so i can book a bus
cheers shaun.Contact 01946691942 Or 07938863720
Hello
We would like to offer your players and supporters a 10% discount off Accommodation at Summergrove Halls in Whitehaven on a weekend. This would mean from £27.00 for an En-Suite room.
Please feel free to forward this to the person that organises team travel and supporters travel. If you would like to include this on your website feel free.
Please let us know if you require any further assistance and if you would like the 10% discount code for your team and supporters.
We look forward to hearing from you.
Kind regards,
Rebecca Delin
Business Development Manager
Summergrove Halls, Whitehaven, Cumbria, CA28 8XZ
01946 813328
22nd January 2016
Brooks made his debut for Scotland against France in the European Championships in November 2015 having moved from Rochdale Hornets to Whitehaven the same year.
Brooks has impressed during recent training with the Vikings squad and the Club moved quickly to reward him with a two-year professional contract for the 2016/2017 Seasons.  The Whitehaven club stated 'we would not stand in the way of a player having a chance at super league and furthering his career, especially as Widnes will 'dual reg' him back to our club for the 2016 season.
The 6ft 2 inch, 16 stone prop forward stated "It's an exciting opportunity to go full time with a professional Superleague outfit with a long historical pedigree in the game. I look forward to settling into the side and developing myself as a person and player at the club".
Head Coach Denis Betts stated "We have added Sam to our squad to strengthen it. Sam has a great desire to be a full time rugby player, this shone through in training sessions that he took part in. We were willing to offer an opportunity and further our relationship with Whitehaven. From the information we acquired on Sam we believe there is potential for Sam to become a Super League front rower.  We'd like to thank Whitehaven for developing Sam's talent over the last season.'
James Rule Vikings CEO commented "We enjoy a fantastic partnership with Whitehaven which we will continue to develop via our dual registration agreement in 2016. I would like to thank all involved at Whitehaven for giving Sam a chance at his dream of playing super league and wishing him well in the future."
Amanda Hewer
GM
22nd January 2016
The club is running a trip to the 2016 Challenge Cup Final at Wembley Stadium which takes place on Saturday 27th August.
The trip will leave at 0700hrs on Thursday 25th August and return at 1530hrs on Sunday 28th August. This will allow us to attend the Haven Super 8's game on Bank Holiday Monday 29th August.
We have block bookings in the centrally based London hotels The President and The International Hotel both of which are in Russell Square.
A non – returnable deposit needs to be paid by Friday 4th February and the final price will include a ticket for the Final.
If you are interested or require further information, please contact me on michaelrothery@live.com
I look forward to hearing from you.
Cheers
Mike Rothery
Travel Coordinator
WRLFC
20th January 2016
Dear Fans,
              Please see below our 2016 squad number;
1 Louis Jouffret
2 Craig Calvert
3 Chris Taylor
4 Jessey Joe Parker
5 Elliot Miller
6 Dion Aiye
7 Grant Gore
8 Sam Brooks
9 James Newton
10 Richard Beaumont
11 Dave Allen
12 Scott Mcavoy
13 Liam Carberry
14 Thomas Coyle
15 Ben Davies
16 Connor Holliday
17 Stephen Fox
18 Kurtis Quinn
19 Glenn Riley
20 Jordan Burns
21 John Paul Brocklebank
22 Nathan Lucock
23 John Todd
Amanda Hewer
GM
19th January 2016
New for 2016
whitehaven rugby leauge membership cards,
Membership cards will cost £10 and will gain you a 10% discount on all drink and snacks in the bar.
Membership cards are available from the club office now or behind the bar.
We also now have Kingston Press Fruit Cider on draft.
The bar will be open from 12 o'clock onwards this Saturday and also entertainment will also be on Post game from the Fantastic Party Rockers in the JJ McKeown Bar from 8.30pm onwards.
Amanda Hewer
GM
15th January 2016
 Please be aware our fixture away at Sheffield will now be played on Saturday 12th March 3pm Ko instead of Sunday 13th March.
Amanda Hewer
GM
14th January 2016
Some players are still un sponsored so if you would like to sponsor one of the players below get in touch with me at the office on 01946 328088 but be quick we would like every player to be sponsored before the start of the season.
Ben Davies
Sam Brooks
Richard Beaumont
Player sponsorship is £125.
Amanda Hewer G.M.
11th January 2016
Pictured here is Michael Rothery Ernie's son. Another life long haven fan. Michael has recently been appointed as Whitehaven's travel coordinator. He said "I have been asked to help out on the logistics of the new travel initiatives that the board will be undertaking. We organised an excellent trip for the Third Test against New Zealand which was a fantastic day out. On the agenda for this year we already have some arrangements in place, these will include The Blackpool Bash, a club trip to Wembley and the Challenge cup final and later in the year a trip to London for the annual dinner in the House of Lords, of the all Party Parliamentary Rugby League group that the club joined last year. In 2017 the club is running a trip to France this will hopefully be Toulouse but if that club does not make promotion this year then the club intends to run a trip similar to the one it ran to Carcassonne a few years ago. Then in 2017 in conjunction with David Howes we will be running a trip to the World Cup in Australia and New Zealand. All exciting stuff. We will be putting more details on the home page etc in the next couple of weeks. We will be taking deposits shortly. This is all about bringing the club back into the community and creating entertainment for the fans."
Amanda Hewer G.M.
11th January 2016
Pictured here is one of Haven's oldest fans. Ernie Rothery who is a sprightly 93 and is one of those fans who was there is 1948 and has followed the club ever since. Ernie is pictured buying his season ticket in the new format, Ernie said "I like the idea of the smaller ticket, I can put it in my wallet and keep it safe, I am really looking forward to the start of the season". We wish you well Ernie and thank you for your loyal support over the years and in years to come.
Amanda Hewer G.M.
24th December 2015
Our Community team visited West Cumberland hospital this week to spread some much needed Christmas spirit and to join in on their Christmas party.
Haven players Jesse Joe Parker, Kurtis Quinn and Glenn Riley where joined by community officer Callum Aitken. They delivered gifts to allthe children and enjoyed an afternoon of fun games and music.
Callum Aitken said 'We really enjoy this part of our job it gives us the oppertunity to give back alot of the community spirit we recieve when out coaching in local schools'.
Special thanks to Kelly Agnew for allowing us to visit every year.
Amanda Hewer
GM